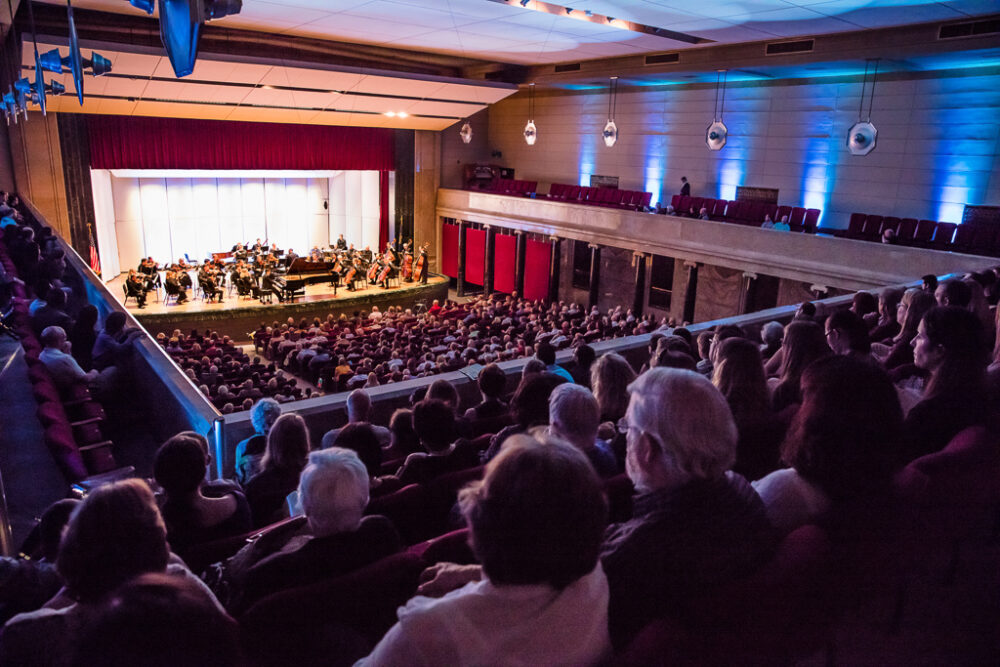 Welcome to music without limits!
Get ready for our 2023/24 season! We have an exciting lineup of concerts in store, and it's a joy and privilege to share this incredible music with you in the concert hall this year.

We want you to know how much we value you, our subscriber. Your loyal support fuels our mission and our music. You make the work we do possible–whether in the concert hall or out in our community.
As a subscriber, you have special access to advance tickets for concerts outside of your subscription. We encourage you to use the discount code below by phone or online for the best available seats for any additional concerts you would like to purchase.

We hope you enjoy all the benefits and beautiful music that your subscription provides you this season. Please accept our sincerest thanks for your support of the Omaha Symphony. We look forward to seeing you soon!
Best Seats
Guaranteed, priority seating for each concert in your Masterworks, Symphony Pops, Symphony Rocks, and Movies series. Whether you prefer center, aisle, or front row, you receive the same seating year after year and are the first in line to renew and upgrade.
Discounted Tickets
Season Tickets are less expensive than regular-priced single concert tickets. As a subscriber, you have special access to advance single concert tickets outside of your series package(s).
Free, easy exchanges
We know you're busy and that schedule conflicts can pop up. Don't worry—we're flexible!
Don't let your tickets go unused—gift them to a friend or contact us in advance to make a quick and easy exchange. Exchanges of subscription tickets can be made easily over the phone or by email with no exchange fees!
Here's how to make your free ticket exchange:
Exchanges must be made at least 48 hours prior to the date of your performance on the ticket and may be subject to upgrade costs.

By Phone: Call Ticket Omaha at 402.345.0606. Monday-Friday, 12-5 p.m.
By Email: Send your request to Ticket Omaha via email at ticketomaha@o-pa.org and include your full name, the performances and dates involved, and the requested seat for the performance you're wanting to move to (subject to availability).
Other Info
Digital Ticketing
Your tickets will be delivered digitally via the Ticket Omaha App.
How do I access mobile tickets?
Download the Ticket Omaha App and log in with the same account you used when you purchased your tickets.
Go to "My Account & Tickets" in the navigation and click on "My Tickets".
Select the event you are attending and the barcode will appear for scanning. Please note, barcodes will appear 48 hours prior to the event.
Need to share a ticket? No problem, click on the ticket and then the "send to a friend" button. Enter their email and they will be able to access the tickets from their account.
If you need printed tickets at Will Call, please call Ticket Omaha at 402.345.0606 or email them at ticketomaha@o-pa.org.
Seat Location
Although tickets may appear non-sequential, for example, seats 1 & 3 or 2 & 4, your seats are next to each other. Even numbers are on the right side of the house and odd numbers are on the left. The seats in the center are three digits (101, 102, etc.).
Where we perform
Most Omaha Symphony concerts will be held at the Holland Performing Arts Center at 1200 Douglas Street. You can reach them M-F, 12-5 p.m. at 402.345.0606.
There will be six concerts performed at the Jan and John Christensen Concert Hall at Strauss Performing Arts Center in the 2023/24 season. These will be on Sundays at 2 p.m. Parking is free and easy.
The final Family Series concert of the season will be performed at Omaha South High School.

Concert Start Times
Evening concerts begin at 7:30 p.m. and Sunday matinees begin at 2 p.m. The building will be open 90 minutes prior to performances and the concert hall doors will open 30 minutes prior to your performance. This may change as the season progresses, so be sure to look for your Know Before You Go emails in advance of your concert!
Parking at the Holland Center
The most convenient paid parking areas are the Omaha Park Eight Garage located adjacent to the hall on the corner of 13th & Dodge. Street meters can be found nearby for $1.25/hr and are free after 9 p.m. Monday-Saturday and free all day on Sunday.
Tax Credits
If you are unable to attend a concert and choose not to make an exchange, you may donate your ticket back to the Omaha Symphony and receive a tax-deductible receipt for your contribution. Please notify us of your intent to donate by calling Ticket Omaha at 402.345.0606 or via email at ticketomaha@o-pa.org.
Pictures & Video
While the use of smartphones and devices to access program notes, Live Note, and the Omaha Symphony app is allowed and encouraged, the use of still, video and digital cameras, or audio recording equipment is not permitted during performances. Before and after the performances however, photos are encouraged! Don't forget to tag @omahasymphony on Facebook or Instagram when you post on social!
---