Get up-to-the-minute and exclusive content, special offers, and much more!
With limited in-person interaction with our patrons, the Omaha Symphony has prioritized our digital presence. We've worked diligently to engage with our patrons, partners, and community in new ways—and now, we're excited to share the Omaha Symphony app, presented by Physicians Mutual. Enhance your live music experience and take the symphony wherever you go with this free app:
be the first to get the latest news, in-depth stories, and special offers
order tickets to concerts easily and even give to your Omaha Symphony with just one tap
find in-depth guides to the music, artists, and venues on the day of your concert
watch and listen to a variety of content from wherever you are
---
Engagement at your fingertips
This app is your direct connection to the latest information on the events, people, and stories about the Omaha Symphony.
Tap on What's New to see behind the scenes, read in-depth articles, and hear the latest audio recording
The Videos page curates the best and latest from our YouTube channel
To find out about any member of the orchestra, check out the Artists section
Tap on More to get quick access to other features such as visitor information, social media links, and more!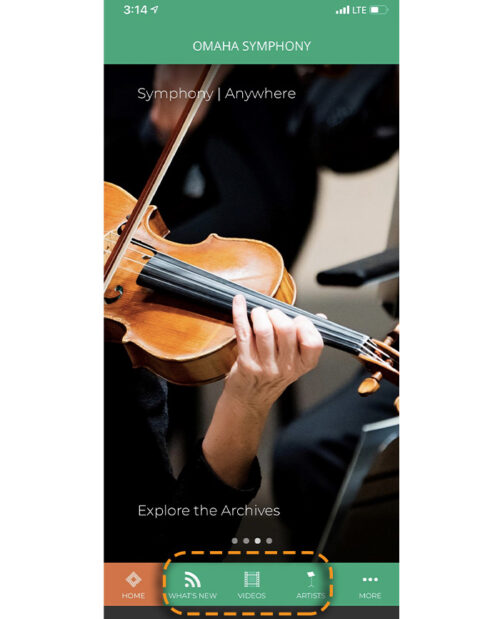 ---
LiveNote
For selected concerts, LiveNote adds something extra to the performance in real-time with in-depth program notes and multimedia served in-concert in a non-invasive way. Follow along with the music and enhance your experience!
Navigate to LiveNote in the app and choose Upcoming to find the Livenote from the concert you are attending.
Once selected, there may be a separate LiveNote for each piece on the program or just one for the entire concert (such as Home for the Holidays)
The opening screen will show you where to tap to select different tracks. Many times, there will be just one track, so no need to worry if you don't see anything there. You'll also see where to tap for additional settings.
Once you're in, you can move between slides by swiping left or right. If you are using LiveNote during the performance, you may have the option to select Live Mode which will advance for you as the concert goes along so you get the insights right on time!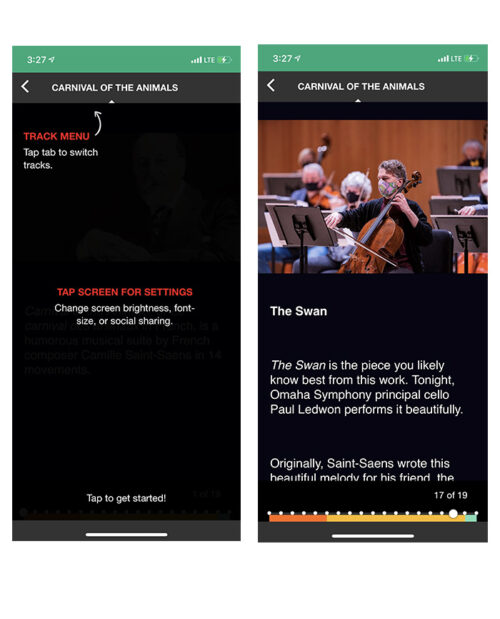 ---
Events
Browse upcoming events and get information about the artists, repertoire, performance times, and other helpful details. Reserve tickets right from your mobile device. Once you're at the venue, more features become available to maximize your experience with artist bios, pertinent information, and special offers just for you!
*Note: With the restructuring of our 20/21 season, there are no events listed in the app just yet. Make sure to check out our upcoming concerts here. Tickets go on sale in January!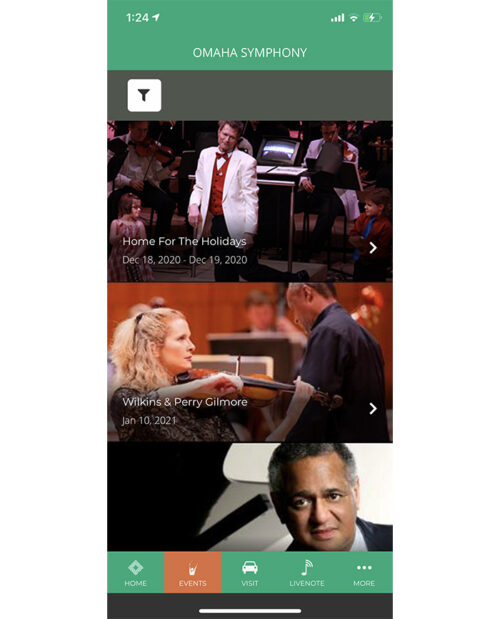 ---
---
Presented by: