Scott Quackenbush
Principal Trumpet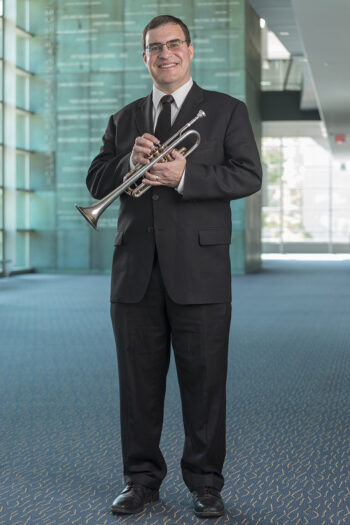 Scott Quackenbush is a native of Ann Arbor, Michigan. Just as he was getting used to the cold climate, his parents moved the family to Houston, Texas when he was seven years old. He began playing the trumpet at age 11, choosing it for the same reasons that most preteen boys pick the trumpet – it's small, it only has three buttons, it plays the tune most of the time, and, of course, it's loud.
Despite his horror at the eventual discovery that the three buttons make things harder, not easier, Scott had to admit that he had fallen in love with the instrument and with music-making in general. He decided that he wanted to be some sort of musician by the time he was in the seventh grade. After hearing a recording of Wynton Marsalis and the Eastman Wind Ensemble, he had decided where he wanted to go to school.
Scott holds a Bachelor of Music degree from the Eastman School of Music where he studied with the world-famous teacher Charles Geyer. In 1998, he moved to Evanston, Illinois where he attended Northwestern University under the instruction of Barbara Butler. He was awarded his Master of Music degree in 2000. Scott received additional training from the Aspen Music Festival and the National Orchestral Institute.
For years, Scott played the driving-for-dollars game as he drove around the Midwest going from job to job. He has performed as principal trumpet with the South Bend Symphony and Northwest Indiana Symphony, and as third trumpet with Music of the Baroque. He has performed as an extra with the Milwaukee Symphony, Southwest Michigan Symphony, Grant Park Symphony, and Detroit Symphony and a soloist with the Vancouver Symphony.
Scott joined the Omaha Symphony as principal trumpet in 2008, and has been enjoying the dramatically shorter commute. He has worked with other area ensembles as well, including the Omaha Chamber Music Society, Offutt Brass, and a tour with Brass in Blue. He also maintains his position in Music of the Baroque in Chicago. Scott has performed at the Grand Teton Music Festival and with the Britt Festival. In addition to his performance work, Scott is an artist-in-residence at the University of Nebraska-Lincoln, adjunct lecturer at Creighton University and coaches local players on occasion. He is an active arranger for brass, although he is trying his hand at other ensembles as well with varying degrees of success.
Scott can be heard on several albums released by Music of the Baroque, as well as their PBS holiday broadcast. He can also be heard, if you turn the volume way up and listen very closely, on Pete Yorn's album Back and Fourth.
Scott lives in Papillion, Nebraska with his wife, Maria, a music teacher in Bellevue Public Schools, and with his son Jacob. In any free time that his eleven-year-old allows him, Scott is an avid homebrewer, and a voracious collector and player of any type of game you can imagine.