Ricardo Amador
Section Violin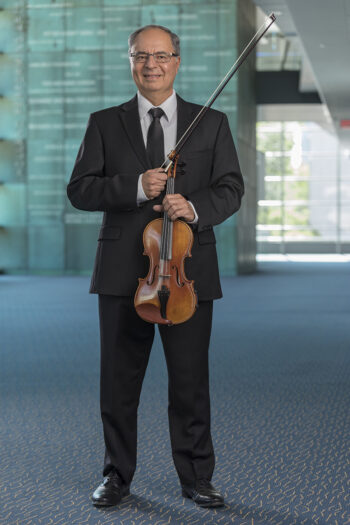 Born in Vienna, Austria, Ricardo received his early training with his father, Ezequiel Amador (first violinist with the San Francisco Symphony) and at the San Francisco Conservatory of Music with Camilla Wicks. He then continued studies with Claire Hodgkins (assistant to Jascha Heifetz) at the University of Redlands, and Jacob Krachmalnick (Concertmaster of the Philadelphia Orchestra and the San Francisco Symphony) at the University of Michigan.
Ricardo was a successful freelancer in the San Francisco Bay area until he won the audition for the Omaha Symphony where he is a full time first violinist. He is also Concertmaster for the MostArts Festival in New York. As a freelancer he performed with 20 different orchestras in several different countries including the United States, Canada, Mexico, Germany, Peru and his native Austria. In San Francisco Mr. Amador regularly performed with the San Francisco Symphony, San Francisco Opera, the San Francisco Ballet, the San Francisco Chamber Symphony, national tours with the San Francisco Western Opera, along with studio work for film, television, and pop artists.
In addition to his passion for music, he enjoys cars. In 1996 he won a local amateur racing championship in his modified 1988 Mustang 5.0, and then moved up to faster Formula 500 cars. Ricardo still owns his first car, a 1964 Ford Galaxie 500 convertible. He has also had the opportunity to drive on race tracks: a Shifter Kart, Corvettes, Porsches, and a Ferrari F430.