Rebecca Kia-Mills
Section Violin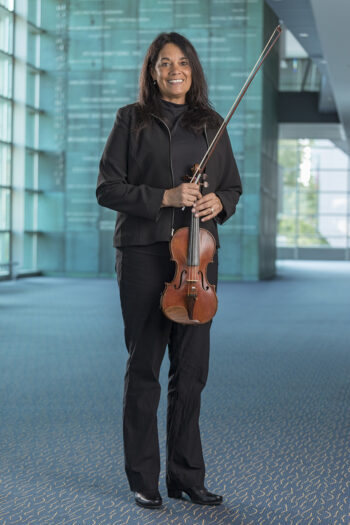 Becky has been a full-time member of the Omaha Symphony since 1990. She won the job while studying with Allen Ohmes at the University of Iowa and pursuing a Doctor of Musical Arts in Violin Performance.
A native of Chicago, Becky is also the violin soloist/conductor for Mannheim Steamroller and she travels with them every Christmas season, performing around 50 concerts in 7 weeks each year. Kia-Mills also directs a community orchestra in Red Oak, IA called "Strings Unlimited" which is an inter-generational orchestra for students aged 9 and up.
Before coming to Omaha, Becky earned a Bachelor of Music Education from Augustana College in Rock Island, IL and a Masters of Arts in Violin Performance from the University of Iowa. She has performed at numerous summer festivals and she loves to play in traveling Broadway shows at the Orpheum Theatre when she has time.
Becky is married and has 3 daughters. She lives in Atlantic, IA but makes a point of returning to Chicago every year to catch her favorite team (the Chicago Cubs, of course!!).