Patrick Pfister
Principal Trombone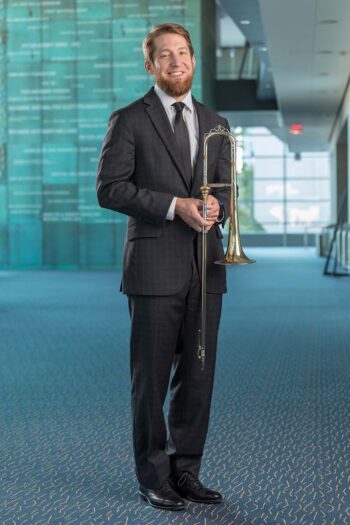 Golden Valley, Minnesota native, Patrick Pfister has been Principal Trombonist of the Omaha Symphony since 2010. Before coming to Omaha, Patrick held the same position with the Columbus (IN) Philharmonic while a student at Indiana University. Patrick has also performed with the Madison and held fellowships at Tanglewood, National Repertory Orchestra, and Bar Harbor Brass Week.
As a soloist, Patrick was a winner at the 2007 Eastern Trombone Workshop, a finalist in the 2007 ITA Robert Marsteller and Frank Smith solo competitions, and won the Indiana University Brass Concerto Competition twice, on both tenor and alto trombone. The 2015-16 season marked Patrick's solo debut with the Omaha Symphony performing Nino Rota's Trombone Concerto.
Patrick earned his bachelor's degree at the University of Wisconsin as a student of Mark Hetzler and his master's degree at Indiana University as a student of Carl Lenthe. Additionally, Patrick has studied with Douglas Wright, Peter Ellefson, Thomas Ashworth, Brian VanStavern, and Mike Whipkey. While at Indiana University, Patrick minored in conducting, studying with Thomas Baldner, Charles Latshaw, and Ben Bolter.