Lisa Meyerhofer
Assistant Principal Flute and Piccolo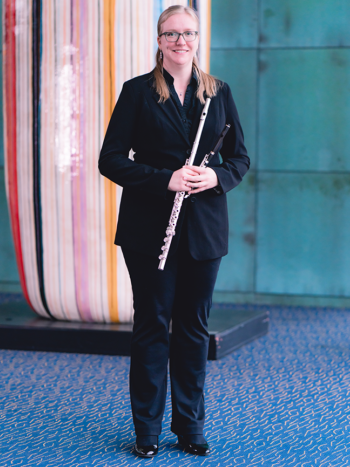 Lisa Meyerhofer holds positions as Second Flute/Piccolo with the Chattanooga Symphony and Opera, Principal Flute at Opera in the Ozarks, and is a native of Lancaster, NY where she maintains a private flute studio. She earned her BM in Music Education and Performance from Ithaca College, studying with Wendy Mehne and Kelly Covert, and her MM in Flute Performance from Northwestern University, studying with John Thorne and Richard Graef.
Lisa has also performed with the Buffalo Philharmonic, Canton Symphony, and Lexington Philharmonic. Other accomplishments include a prize in the 2017 Walfrid Kujala International Piccolo Competition, competing as a quarterfinalist in the National Flute Association's Young Artist Competition, and performing as a winner of the Greater Buffalo Youth Orchestra Concerto Competition.
Outside of music, Lisa also tutors math and science. She especially enjoys reading, riding her bike, hiking, photography, cooking, baking, making paper beads, and learning about wine.