Karen Sandene
Third Bassoon and Contrabassoon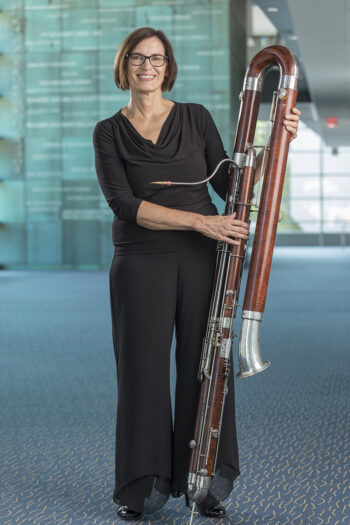 An Omaha native, Karen Sandene is an active performer in the Omaha and Lincoln classical music community, playing bassoon and contrabassoon with the Omaha and Lincoln Symphony Orchestras, the Abendmusik Orchestra and the Nebraska Symphony Chamber Orchestra. She also free-lances with other regional musical organizations.  
Karen attended the University of Nebraska and received her undergrad degree in Bassoon Performance and a masters degree in education. She is a long-time music educator with the Lincoln Public Schools, currently teaching instrumental music in several Title I elementary schools.  
Karen has led in the creation of several chamber music groups in Lincoln, including the Third Chair Chamber Players and the New Music Agency (an ensemble devoted to the performance of contemporary music). She also performed on two seasons of "Omaha Under the Radar", a contemporary musical festival held in Omaha, NE. Karen is the co-founder of Bassoons Across Nebraska, an ensemble made up of the bassoon sections from the Omaha and Lincoln Symphonies, who strive to raise "bassoon awareness" across the state.
Karen is active in the American Federation of Musicians, serving on the board of Local 463 in Lincoln, and holding the title of Secretary for the Regional Orchestra Players' Association, an organization serving ninety member orchestras from across the nation.