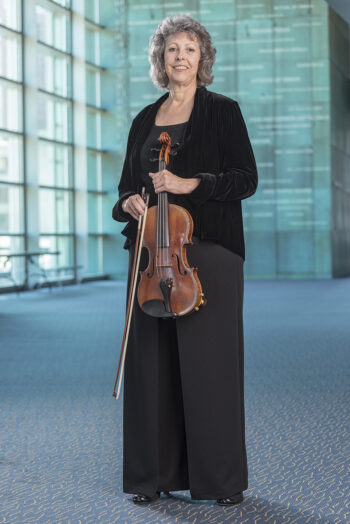 Judy Divis moved to Omaha and joined the viola section of the Omaha Symphony in 1986. She has been an active performer ever since, playing with other area orchestras like Lincoln's Symphony and recording with local artists Mannheim Steamroller and Bright Eyes. She is a founding member of the Nova String Quartet, established in 1990. A dedicated teacher who has served on the faculty at UNO, the Omaha Conservatory of Music, Brownell-Talbot School, and Midland Lutheran College, Judy served as a String Specialist for Omaha Public Schools for many years, and as a consultant for the Education Department of the Omaha Symphony's Community Partnerships program.
Judy's passion is sharing the amazing world of music, specifically string playing, to students in underserved communities. As Vice president of the Omaha Chamber Music Society, Judy founded and is the director of the Good Vibrations program, supporting the maintenance and repair of stringed instruments belonging to students in Title I schools in Omaha. Good Vibrations is the only program of its kind in the country and, as of the spring of 2020, has repaired over 100 instruments and bows at no cost to the students or their families.
In addition, Judy developed an education program which sends OCMS string players into Omaha schools to work closely with the students and teachers. The students get the benefit of hearing these wonderful professionals up close, and they receive one on one attention, something which may not ordinarily be available to them. The program is in its third year and continues to expand. Both Good Vibrations and the OCMS education program have received an outpouring of support and encouragement from the community.
Judy would sum up her musical philosophy with this: "Music is a language we can use to build self-esteem, teach teamwork, and encourage a deep appreciation of the arts for our students. It is a living, breathing example of the best of mankind."