Jay Wise
Third Trombone and Bass Trombone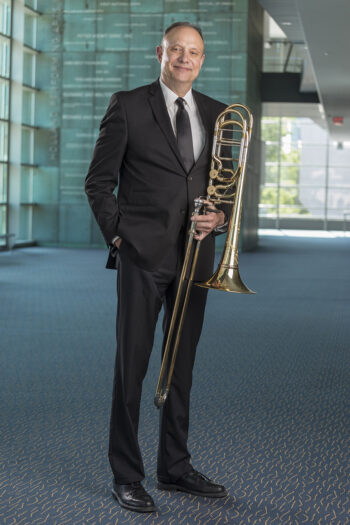 Jay Wise has been the bass trombonist of the Omaha Symphony since 1987. He also performs on tenor, alto trombones and contrabass trombones, euphonium and tuba. He has also served as Principal Trombone of the Lincoln Symphony, and has performed with orchestras in Cedar Rapids, Iowa and Midland, Texas, and festivals in Flagstaff, Arizona and Fayetteville, Arkansas.
As an educator, he is Artist Faculty at the University of Nebraska at Omaha, and maintains a busy private studio.
He earned his Bachelor and Masters of music from Northern Arizona University, and his Doctorate from the University of Iowa.
As a free-lance musician, he has performed with Bob Hope, Red Skelton, Steve Allen, Lou Rawls, The Temptations, Natalie Cole, The Four Freshmen, Frank Sinatra Jr., Joel Gray, Pam Tillis and many other entertainers, in addition to recording with the Las Vegas Lab Band, The Nebraska Jazz Orchestra and various American Gramophone artists. Other recording collaborations include Columbia Records artist Pete Yorn and the soundtrack for the PBS documentary "Most Favorite Son".
In May of 2009, he was a featured artist with the Lincoln Symphony, performing the Tomasi Concerto for Trombone and Orchestra.
Broadway fans in Omaha have heard Jay play in recent touring productions of Mary Poppins, The Lion King and Wicked. In the summers of 2019 and 2021 he was invited to participate in the Santa Fe Trombone summit, a workshop with the Santa Fe Opera trombone section.