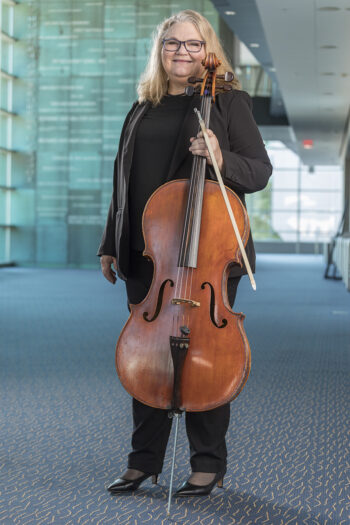 Holly Gullen-Stout has been a member of the Omaha Symphony cello section since 1979. She has also played with the Lincoln Symphony Orchestra, the Nebraska Chamber Orchestra, and is the founding member of the Nova String Quartet. Additionally, Holly spent years as a strings teacher primarily in the Omaha Public Schools and was adjunct faculty for two years at Dana College in Blair, Nebraska.
Growing up in the Kansas City area as the daughter of a ground-breaking jazz organist and a carpenter/contractor, she began cello studies at the age of 13 in the public schools moving quickly to private studies with members of the Kansas City Philharmonic (the orchestra prior to the Kansas City Symphony). She went on to receive her Bachelor of Music Education from the University of Missouri-Kansas City Conservatory of Music with an emphasis in cello performance and music theory.
Later, after moving to Omaha and some years of teaching and playing, she decided it was time to get her Masters in Cello Performance and commuted to the Conservatory in Kansas City to complete that degree. Holly's spare time is spent writing music for professional string quartets (especially the Nova String Quartet) and elementary school orchestra. When not pursuing musical endeavors, she enjoys gardening and spending time with her two adorable little dogs.