Heather Baxter*
Assistant Principal Oboe and English Horn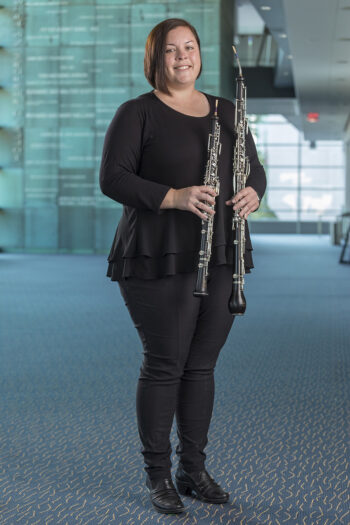 Heather Baxter joined the Omaha Symphony in 2015 as Assistant Principal/Second Oboe and English Horn. Prior to her move to Omaha, Heather performed with several orchestras throughout Indiana, Ohio, and Kentucky, including the Richmond Symphony, Evansville and Lexington philharmonics, Dayton Philharmonic Orchestra, Kentucky Symphony Orchestra, and Orchestra Kentucky of Bowling Green, among others, while completing her doctorate in oboe performance at the College-Conservatory of Music (CCM) of the University of Cincinnati.
Heather has had the privilege of studying with some of the country's top teachers and performers, including Mark Ostoich at CCM, Cally Banham of the St. Louis Symphony Orchestra, Humbert Lucarelli at the Hartt School while completing her master of music degree, and Ann Homann Mottl at Southern Illinois University at Edwardsville while completing her bachelor of music degree. She also has performed in masterclass settings for John Mack, Ray Still, Washington Barella, Casey Hill, and Karen Birch Blundell, among others, and studied with Robert Atherholt and Anne Leek at the Texas Music Festival.
In her free time Heather enjoys hiking and rollerblading with her dog, Skye and spending time with her cat, Dill. She also loves boardgames with friends, particularly Settlers of Catan.