Craig Fuller
Principal Tuba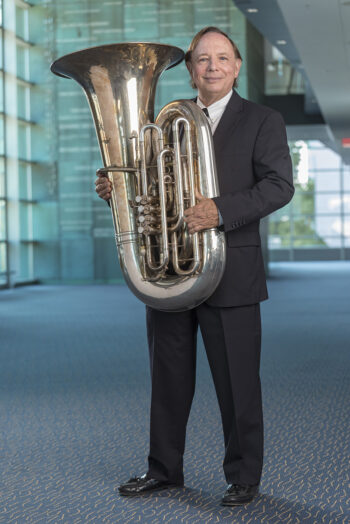 Craig Fuller has been Principal Tuba of the Omaha Symphony since 1978. He is also Professor Emeritus of Music at the University of Nebraska-Lincoln where he taught for 32 years. He is a graduate of Indiana University where he studied with the late Harvey Phillips. Fuller has performed as a soloist with the Omaha Symphony on numerous occasions, as well as the Lincoln Symphony, the Nebraska Chamber Orchestra and the U. S Army Orchestra in Washington D. C. He has performed solo recitals in a number of states, and has performed in brass quintet recitals throughout the Midwest and in the Czech Republic.
In addition to his long associations with the Omaha and Lincoln Symphonies, Fuller has also performed with the Chicago Symphony, the Boston Symphony, the Henry Mancini Orchestra and the Peninsula Music Festival Orchestra in Door County, Wisconsin. Fuller's former students include numerous public school teachers, college teachers and symphony orchestra tuba players throughout the United States. One of his areas of research includes instrument design and repair. He authored a chapter in the "Tuba Source Book" in this area and he holds a U.S. Patent for an instrument design.
The Omaha Jaycees recognized Fuller for community service and professional achievement by naming him an "Outstanding Young Omahan". Fuller has recorded with numerous groups including Mannheim Steamroller, Pete Yorn, the Omaha Symphony and the Chicago Symphony. He has played for many of the world's top conductors including Leonard Bernstein, Klaus Tennestadt, Seiji Ozawa, Daniel Baremboim, Leonard Slatkin, Gunther Schuller and Robert Spano. Fuller has been involved in commissioning new works for tuba and brass quintet and has performed a number of world premieres of new works.