Anne Nagosky
Section Violin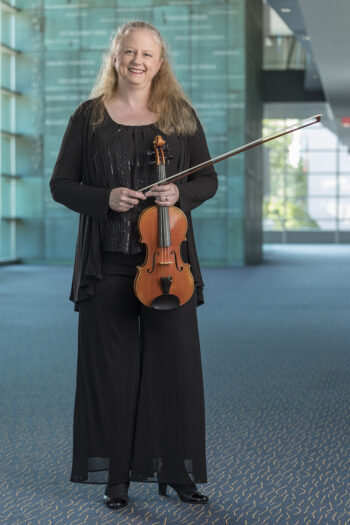 Anne Nagosky has been a full-time violinist with the Omaha Symphony since 1998. She holds a Bachelor's degree, summa cum laude, with majors in music and psychology from Washington University in St. Louis and a Master of Music degree in Violin Performance from Northwestern University's Bienen School of Music, where she received Program Honors. Her principal violin teachers were Mimi Zweig, Nina Bodnar, David Halen and Gerardo Ribeiro.
Anne is an active chamber musician in the Omaha area, performing regularly on local series such as the Vesper Concerts, the Omaha Chamber Music Society's Summer Concert Series and Music as Medicine Series, as well as the Meadowlark Music Festival in Lincoln.
Anne is also a passionate music educator and maintains one of the largest violin and viola studios in Nebraska, sharing her love of music with students ages three and up. Anne has received both the Teacher of the Year award from the Nebraska Music Teachers Association and the Outstanding String Educator Award from the Nebraska chapter of the American String Teachers Association (ASTA). She is the Chair of the Nebraska ASTA State Solo Competition for young string players and recently served a two-year term on the national ASTA Studio Teachers Committee. She has served for many years an advisor for various Omaha Symphony education projects and residencies and holds the title of Lead Residency Teacher.
Anne's students have won and placed at many local, regional and national competitions. They have been featured performers numerous times with the Omaha Symphony and at other local events, including 16 years of Omaha Symphony Christmas Celebration concerts, Joslyn Castle's 2017 Arts and Literary Festival, Opera Omaha's production of Brundíbar and 2014 National Opera Week and the Blue Barn Music Festival. Her studio's Celtic fiddling group, Anne's Band of Merry Fiddlers, has been featured on the Omaha Symphony's Celebrate Creativity Concerts, the Omaha Symphony Spooktacular Family Concerts and the 2018 and 2020 Celtic Journey pops concerts. Anne and her students have appeared on TV and radio and have been featured in articles in the Omaha World-Herald and Her Family Magazine.