Ankush Kumar Bahl Joins the Omaha Symphony in 2021
We are thrilled to announce the appointment of award-winning conductor Ankush Kumar Bahl as the next Music Director of the Omaha Symphony.
Formerly the Assistant Conductor of the National Symphony in Washington, D.C. and the Orchestre National de France, Bahl joins the Omaha Symphony as its Music Director beginning July 2021. He succeeds Maestro Thomas Wilkins, whose 16-year tenure culminates with the orchestra's 2020-21 centennial season.
"I am truly honored to become the next Music Director of the Omaha Symphony," said Bahl. "When I first worked with the ensemble, it was clear to me that this is a great American orchestra, composed of top-tier musicians. I was equally impressed with their generous spirit, work ethic, and flexibility. I felt a special connection between us and sensed a mutual adoration that made me excited about the prospect of becoming a part of this wonderful organization."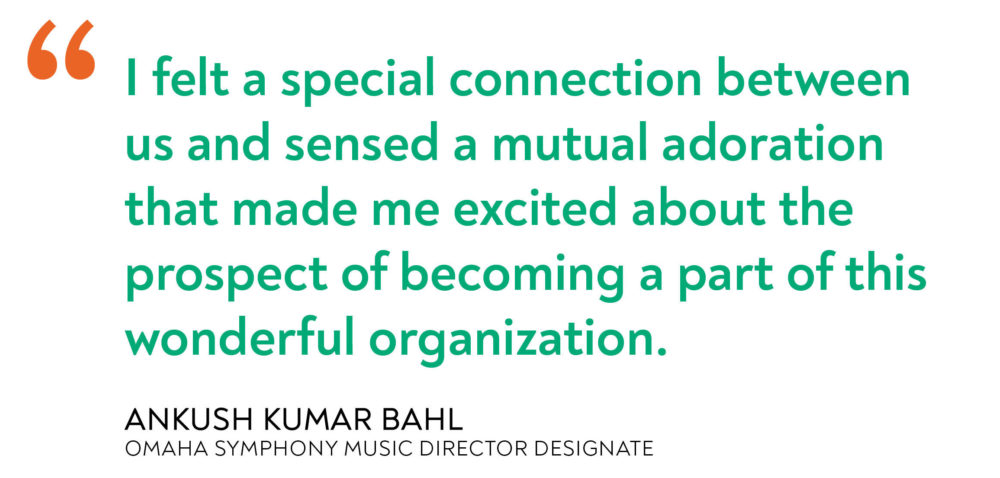 Bahl, the recipient of four separate Solti Foundation U.S. Career Assistance awards and the Felix Mendelssohn-Bartholdy Scholarship, is highly in demand as an artist. He has made appearances with the Detroit Symphony Orchestra, Hawaii Symphony Orchestra, Hong Kong Philharmonic Orchestra, and the Orquesta Sinfónica Nacional de México. Additionally, he has held return engagements with the Richmond Symphony, Virginia Symphony Orchestra, Louisiana Philharmonic Orchestra, and others.
We first welcomed Maestro Bahl to the stage at the Holland Performing Arts Center in October 2019, when he led the Omaha Symphony in a program that included Tchaikovsky's Swan Lake and Shostakovich's Symphony No. 9. The synergy that ignited between Bahl, the musicians of the Omaha Symphony, and our audience was instantly apparent, making him an ideal fit to become our next Music Director.
"We are honored to welcome Maestro Bahl to Omaha," said Omaha Symphony President & CEO Jennifer Boomgaarden. "He is a consummate musician, a dynamic thinker, and an authentic leader with an entrepreneurial spirt. He is passionate about music and its ability to impact individuals and communities. I am confident that he will articulate an inspiring vision for the orchestra as a vibrant collaborator and an innovative, relevant and inclusive resource for our community."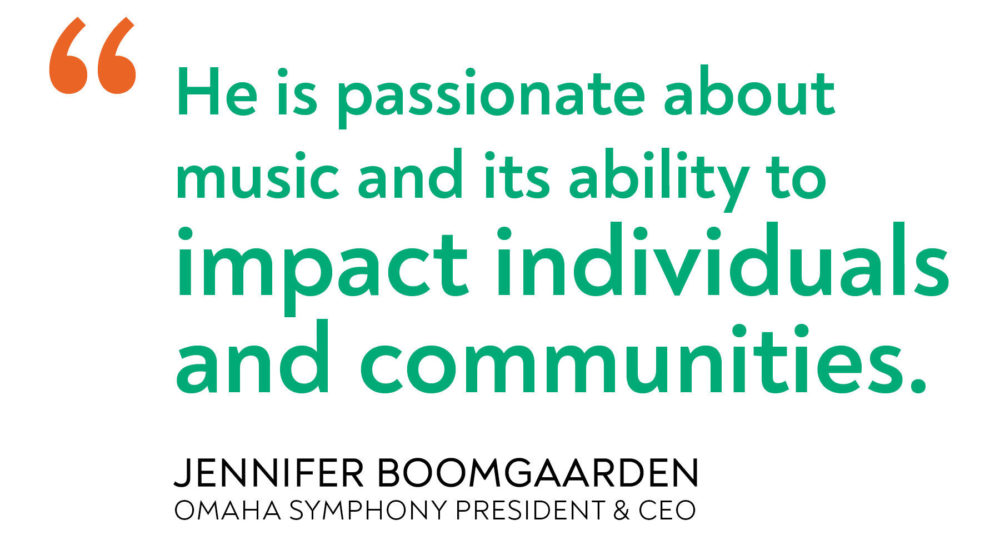 American born and of Indian descent, Bahl is a native of the San Francisco Bay Area and received a double degree in music and rhetoric from the University of California at Berkeley. A protégé of former New York Philharmonic Music Director Kurt Masur, Bahl also considers Jaap van Zweden, Zdeněk Mácal, Christoph Eschenbach, David Zinman, and Gianandrea Noseda among his mentors. He received his Master's Degree in Conducting from the Manhattan School of Music.
Growing up, Bahl trained primarily on the French horn, violin, and piano. He came to conducting a bit later during his time in school, not starting until age 21. It was between sessions at a conducting workshop in Maine that he knew he would dedicate his life to conducting: "While continuing to grow as a musician, then ultimately deciding to fully pursue music as a career, it was conducting that I knew would be the best conduit for me to make music with my peers and share my passion with audiences," he said.

Since that day in Maine, Bahl has made a name for himself as a rising star in the conducting world. Praised by the New York Times for his "clear authority and enthusiasm" and ability to "inspire," he is known for his impressive technique, thoughtful interpretations, and engaging podium presence.
"The musicians of the Omaha Symphony are thrilled to welcome Ankush Kumar Bahl as our next music director," said Omaha Symphony Concertmaster Susanna Perry Gilmore. "From the first time we collaborated it was clear that he embodies both the musical and interpersonal skills that make a great conductor and leader. I admire his artistry and vision and think the Omaha Symphony is fortunate to begin this new partnership."
Maestro Bahl's passionate vision for the future of the Omaha Symphony is rooted in his mission to make the orchestra accessible for all. With a desire to reach audiences at every intersection, he's on a mission to make it clear to all people that "classical music is, in fact, for them as well!"
"My goal is to make symphonic orchestral music part of a thriving and diverse community through inclusion and innovation," he said of his plans for the organization. Bahl says he looks forward to that goal translating tangibly through "making music approachable in the concert hall, taking the orchestra out of the concert hall, connecting with organizations across the community, and being an extremely visible (and audible!) part of the city and greater region."

A Message from Maestro Bahl
---