Lift Up Thine Ears for Orchestra
Thursday, June 10
American Composer Michael Daugherty has a long working relationship with Maestro Thomas Wilkins—his new work, written to mark the Omaha Symphony's 100th anniversary, will have its world premiere here in Omaha this weekend.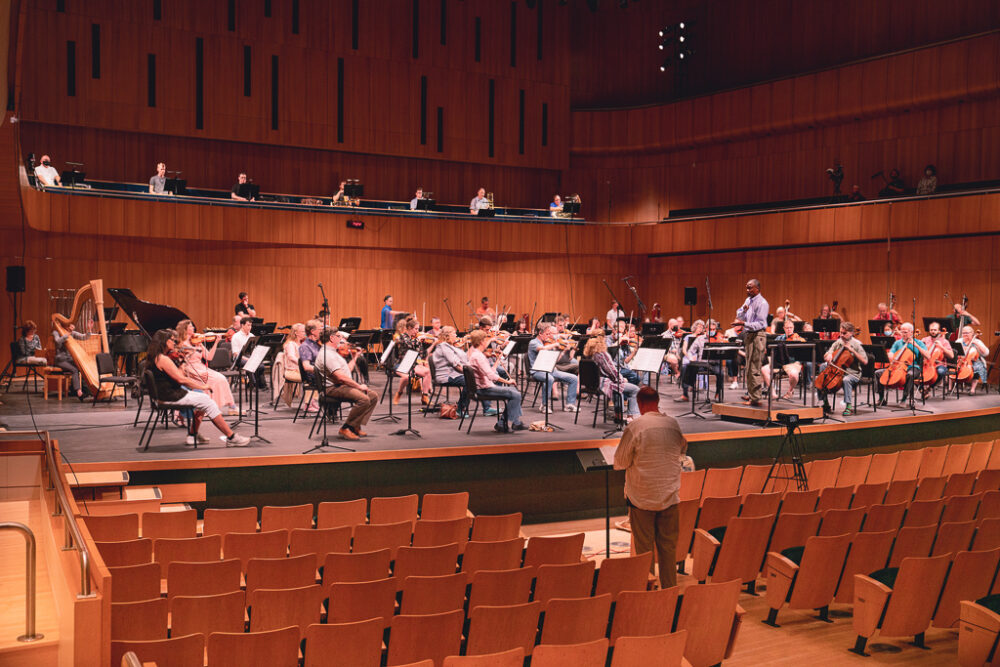 Composer Michael Daugherty looks on as Omaha Symphony rehearses Lift Up Thine Ears.
This weekend, we celebrate our final performances of Thomas Wilkins' tenure as Music Director of the Omaha Symphony. As part of our celebration of the Maestro and our 100th anniversary, the Omaha Symphony has commissioned a special work from noted American composer Michael Daugherty.
Daugherty's new piece, Lift Up Thine Ears for Orchestra, carries a historic throughline, tracing literature and poetry, reflecting that throughline musically in this bonafide concerto for orchestra. Each movement is based upon a different text, and each text reflects the importance of what we hear and how it can change hearts.
The musicians of the Omaha Symphony, under Maestro Wilkins' baton, played the work in its entirety for the first time at Tuesday evening's rehearsal. This weekend's concerts will be the world premiere of this monumental commission; you can watch it from wherever you are Saturday, June 12 at 7:30 p.m.! Tickets for Wilkins Finale: Branford, Daugherty, Elgar are sold out, but we're livestreaming this concert as a gift to our community. Don't miss it!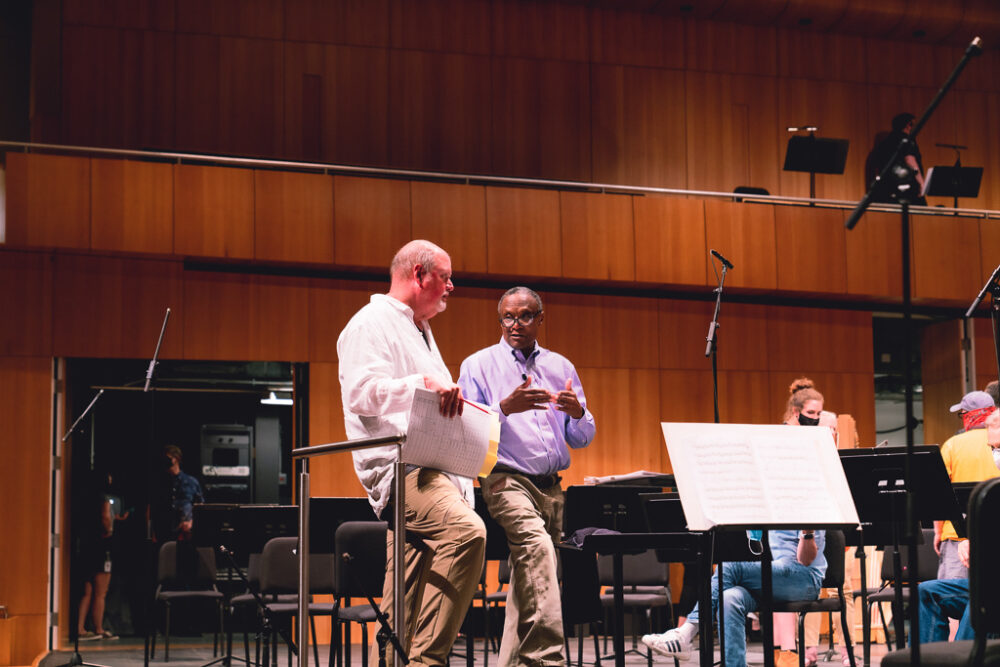 Wilkins and Daugherty discuss rehearsal of Lift Up Thine Ears Tuesday, June 8, 2021.
Notes by Michael Daugherty
Lift Up Thine Ears (2021) for orchestra was commissioned in celebration of the 100th anniversary of the Omaha Symphony. The theme of my three-movement 20-minute symphony is how the human spirit can be uplifted by learning to listen with new ears.
The first movement recalls Shakespeare's dramatic words, "Lend me your ears," from his play Julius Caesar. These four words are echoed in a four-note musical motive that I have composed, which is heard at the beginning of the movement, played by the strings. I then develop the four-note motive through various orchestrations, melodic transpositions and rhythmic transformations.
The title of the second movement comes from Martin Luther King's 1963 "Letter from Birmingham Jail," where he wrote "it rings in the ear" as a lamentation and call for action after he was arrested for leading a civil rights protest. I have composed a musical lament introduced by the English horn and harp, developed by the woodwind section, and then leading into the cellos and French horns playing a melody that evokes Dr. King as "a wayfaring stranger traveling this world of woe."
The third movement turns a phrase from Emily Dickinson's poem –"The Spirit is the Conscious Ear"-- into a celebration of the spirit, energy, and power of music. As they listen to each other, the conductor and the musicians of the orchestra, playing diverse instruments in the woodwind, brass, percussion and string sections, collaborate in pulsating rhythmic counterpoint to create an uplifting experience for all listeners.
It has been my great pleasure to compose this work in honor of Maestro Thomas Wilkins, who has enthusiastically conducted the Omaha Symphony for many years, in his own words, "to explore and celebrate the benefits of listening to each other" and to make "the orchestra a celebration of community through sound."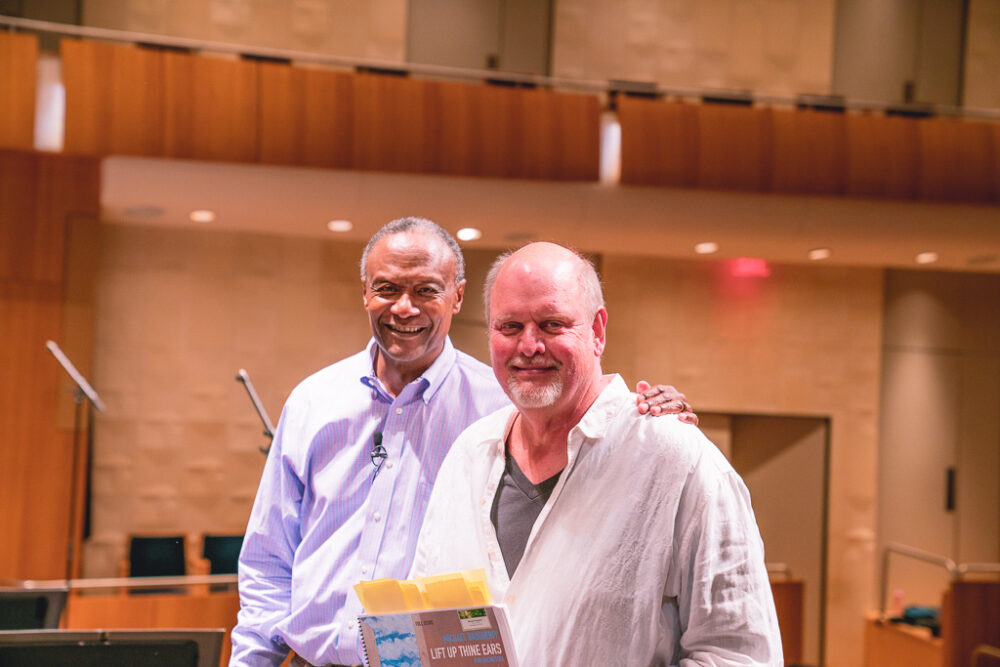 Wilkins and Daugherty at rehearsal June 8, 2021.
About Michael Daugherty
Multiple Grammy Award-winning composer Michael Daugherty was born in Cedar Rapids, Iowa in 1954. He is the son of a dance-band drummer and the oldest of five brothers, all professional musicians. Daugherty first came to international attention when the Baltimore Symphony Orchestra, conducted by David Zinman, performed his Metropolis Symphony at Carnegie Hall in 1994. Since that time, Daugherty's music has entered the orchestral, band and chamber music repertory and made him, according to the League of American Orchestras, one of the ten most performed American composers.
His orchestral music, recorded by Naxos over the last two decades, has received six Grammy Awards, including Best Contemporary Classical Composition in 2011 for Deus ex Machina for piano and orchestra and in 2017 for Tales of Hemingway for cello and orchestra.

As a young man, Daugherty studied composition with many of the preeminent composers of the 20th century including Pierre Boulez at IRCAM in Paris and Betsy Jolas at the Paris Conservatory (1979), Jacob Druckman, Earle Brown, Bernard Rands and Roger Reynolds at Yale (1980-82), and György Ligeti in Hamburg (1982-84). Daugherty was also an assistant to jazz arranger Gil Evans in New York from 1980-82.

After teaching composition for five years at Oberlin College, Daugherty joined the University of Michigan School of Music, Theatre and Dance in 1991 as Professor of Composition, where he is a mentor to many of today's most talented young composers. He is also a frequent guest of professional orchestras, festivals, universities and conservatories around the world.

Daugherty's music is published by Michael Daugherty Music, Peermusic Classical and Boosey & Hawkes. For more information on Michael Daugherty and his music, see michaeldaugherty.net.

---
Love the Omaha Symphony?
Be the first to learn about new concerts, stories, and special offers.