Backstage: Jason Stromquist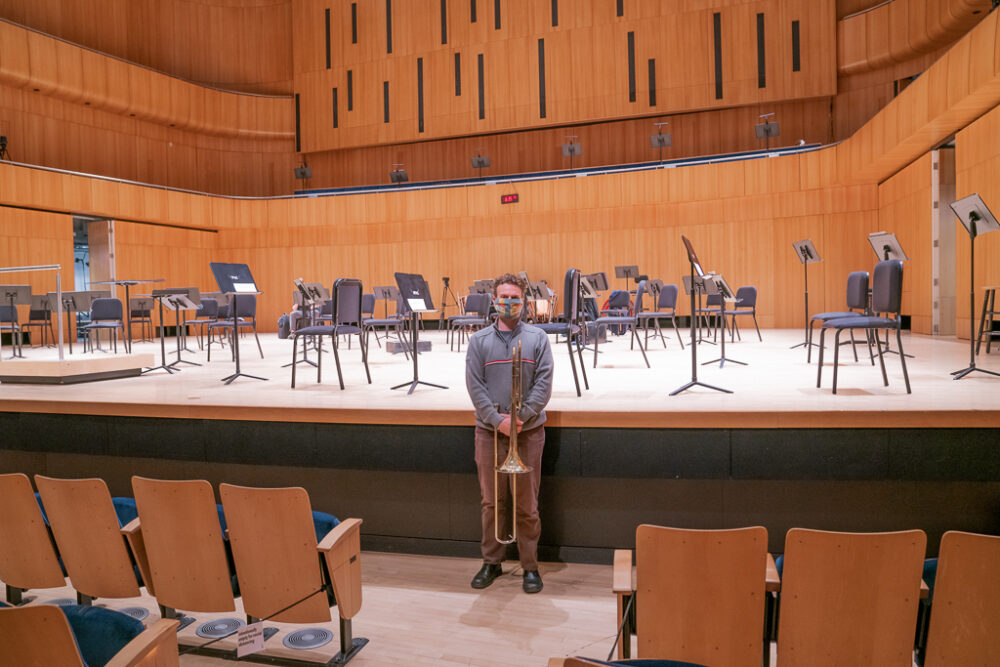 From Offstage to Backstage (but this time in the Holland Center house), we're excited to introduce you to another member of the Omaha Symphony!
If you've been to an Omaha Symphony concert recently, you'll have seen the creative solutions we've found to keep the musicians safe and physically distanced. With safety protocols in place, we've found the use of the choir loft above the stage is the perfect place for the brass musicians to perform! Today, though, we asked trombonist Jason Stromquist to come down from the choir loft and join us on stage before rehearsal (from six feet away!) to talk trombone, Omaha, the music he loves most, and more!
Jason was kind enough to oblige and chatted with us before rehearsal began: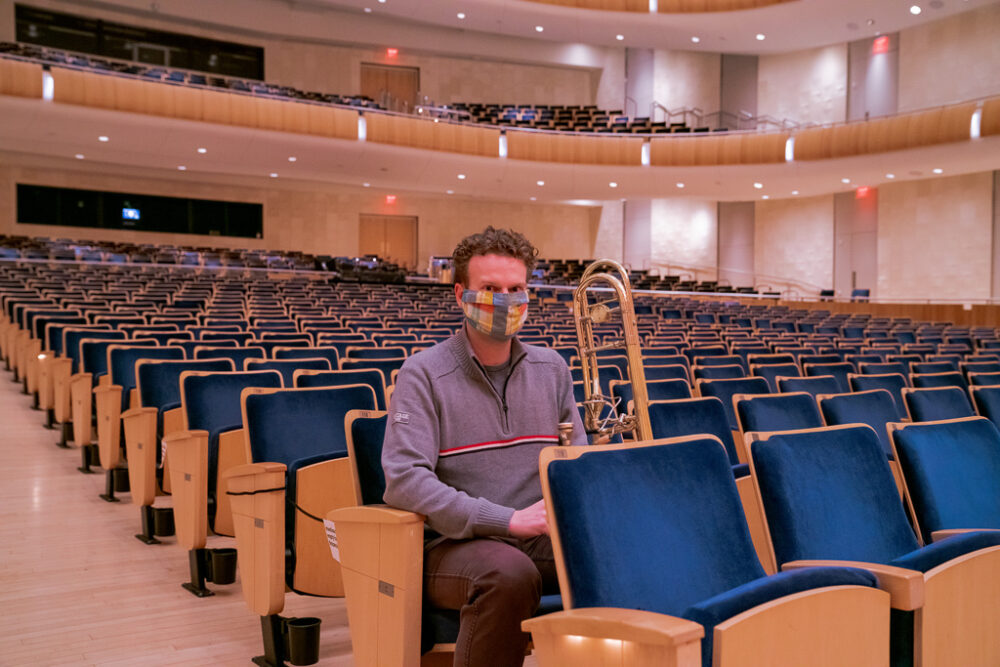 How did you choose your instrument?
I had a twisty road to trombone. I started on a baritone-like instrument in fourth grade called tenor horn, which is basically a baritone small enough for a fourth grader to play. My father played trombone and taught high school band. When I was twelve my father's tuba player couldn't go on tour, so he brought a tuba home and asked me, "can you learn this in two weeks?".
After that I played tuba and only played trombone in jazz band. I had the opportunity to play 2nd trombone on Mahler's 1st Symphony with the San Francisco Youth Symphony at a band camp at the University of British Columbia when I was fifteen. After that I fell in love with the trombone's role in orchestral music and switched my focus to trombone.
What's your favorite thing about being a musician?
I love being a part of the huge team it takes to bring a symphony orchestra concert together. It's hard work for everyone and the sense of community successful performances bring is very rewarding.
What's something people might not know about being a professional musician?
I spend anywhere between 20 to 30 hours practicing on my own every week. If I take more than one day off of playing, I will quickly lose the muscle tone required to make it through challenging performances.
What's your favorite Omaha restaurant?
Hiro Sushi!
What do you like to do when you're not playing music?
Spending time with my wife and two kids, cooking, bike riding, reading, and playing video games.
If you could choose another instrument of the orchestra to play instead of your's, what would it be?
Cello.
What would you be doing if you weren't a professional musician?
Either a computer engineer or running my family's restaurant in Coos Bay, OR.
What's your favorite thing about Omaha?
It's a great place to raise kids!
Do you have any party tricks?
I do a pretty good Johnny Cash at Karaoke! Playing pop tunes on the piano can keep the party going.
What's something about you that surprises people?
I'm a dual citizen of Canada and the United States.
What would you tell someone who has never been to the symphony but is interested in attending a performance?
I would tell them that you don't have to know anything about classical music to enjoy a performance. Live orchestral music is something special that can only be experienced in person. A recording on a home stereo doesn't do it justice.
What advice would you give someone looking to live a more musical life?
You could always learn an instrument or dust off one once abandoned. It's never too late.
What do you wish you had known as a student?
How to practice more efficiently.
What are your top three desert island pieces?
Mahler's 5th Symphony, Bach's Cello Suite #2, Puccini La Boheme.
What piece made you fall in love with classical music?
Mahler's 1st Symphony.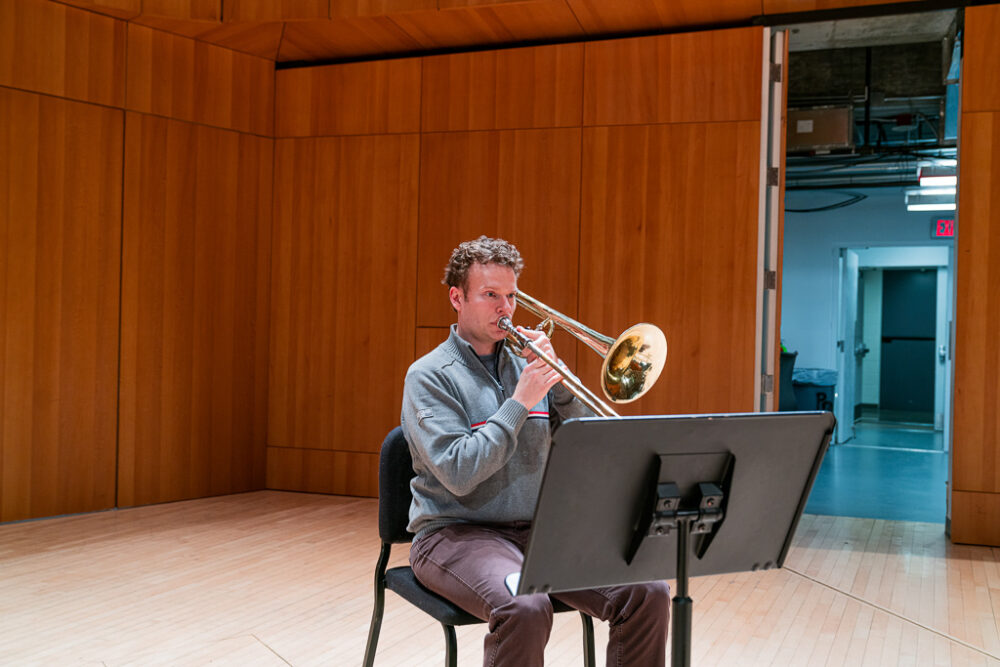 Catch Jason and the rest of the musicians of the Omaha Symphony this spring—check out our full spring 2021 line-up here. Tickets are on sale now!
---
Meet the rest of the orchestra here.