Bill Ritchie*
Assistant Principal Bass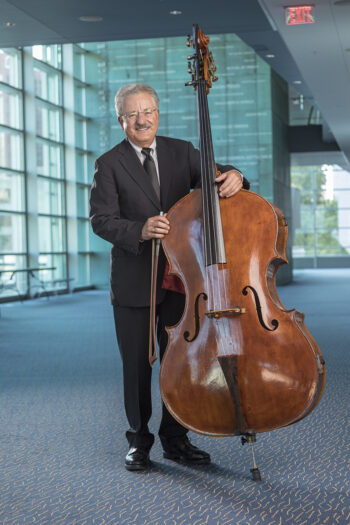 Bill Ritchie is the Assistant Principal Bass of the Omaha Symphony and maintains a private double bass studio. He has been active at both the state and national levels of the American String Teachers Association (ASTA), having been President of the Nebraska ASTA unit and serving as the Chair of the ASTA National Solo Competition.  Bill has made numerous presentations at conventions of the International Society of Bassists, American String Teachers Association, and the Nebraska Music Educators Association. He has contributed articles for professional music trade journals such as American String Teacher, Bass World and the Double Bassist. 
He earned his Bachelor of Music degree in secondary music education from Western Michigan University in 1975 and a Master of Music degree in Stringed Instruments (Double Bass) from The University of Michigan in 1977.  His former teachers include Lawrence Hurst, Robert Gladstone, and Marshall Hutchinson.
Before joining the Omaha Symphony in 1983, he began his career as the Director of Orchestras for the St. Joseph Public Schools in his home town of St. Joseph, Michigan. In 1978 he was asked to be the first conductor of what is now the Lake Michigan Youth Orchestra.
Ritchie performed frequently with the Detroit Symphony in Orchestra Hall in Detroit, as well as on DSO 1998 & 2001 European tours, and a Goodwill Tour of Michigan in 2002. A former member of the Florida Orchestra (Tampa Bay) and the Grand Rapids Symphony and Kalamazoo Symphony in his home state of Michigan, he has also performed with the Atlanta Symphony, the Indianapolis Symphony and the Kansas City Symphony. An avid recitalist, he has performed on many local recital series as a soloist and with his colleagues from the Omaha Symphony.  In 1997, he performed at the Montreux Jazz Festival with the Nebraska Jazz Orchestra and occasionally leads his own jazz quartet.  During the summer, Bill performs with the Grand Teton Music Festival in Jackson Hole, Wyoming.  
He is frequently asked to coach bass players from the Omaha Area Youth Orchestras, and has given master classes at the University of Michigan, Michigan State University, Western Michigan University, and the University of Nebraska. From 1985 to 2005, Bill was a member of the Artist Faculty at the University of Nebraska at Omaha Department of Music, and helped to organize master classes with bass soloists and pedagogues Gary Karr, Jeff Bradetich, Paul Erhard, and James Vandemark.
Bill is married to Patty Ritchie, a professional cellist and the former Director of Orchestras at Millard West High School in Omaha.