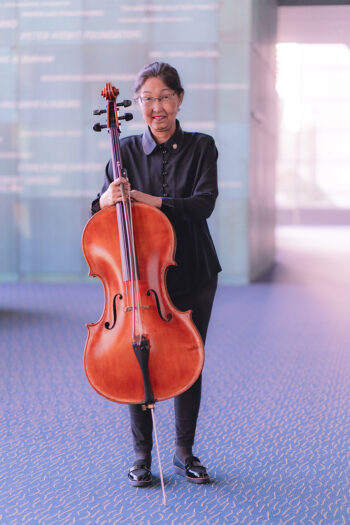 Margaret Lim, cellist, began her study of the cello at the age of six in Tucson, Arizona. Her teachers included Yvonne Tait, Helena Bell, Carol Work, Raya Garbousova and Channing Robbins. An alumni of the Omaha Area Youth Orchestra program, Ms. Lim went on to earn her Bachelor and Master degrees from the Juilliard School, in addition to completing her Suzuki certification under the tutelage of Channing Robbins at the School for Strings in New York City.

A performing professional for over 25 years with the Omaha Symphony and Midlands String Quartet, Ms. Lim has travelled and performed internationally, including a world premiere of a commissioned piano quartet in Carnegie Hall with her sisters and brother-in-law, Lawrence Dutton, the violist of the Emerson String Quartet.

Recent local chamber music performances include those with the Omaha Chamber Music Society, Joslyn Castle Consort and the Vespers Concert Series. Over the years, Ms. Lim has also shared the stage with notable acts including the Trans Siberian Orchestra, Josh Groban, Quincy Jones and David Foster.

As Music Series Coordinator at the Joslyn Art Museum from 1991-2005, Ms. Lim combined administrative skills with programming acumen to produce the following wildly popular series: Jazz on the Green, Bagels and Bach, First Friday Jam and Holiday Under Glass.